In this increasingly competitive business landscape, entrepreneurs need to ask themselves more questions than ever before: Is my product or service servicing an unmet customer need? Where should I grow my business? What investors' base should I tap into?
Alibaba Entrepreneurs Fund/HSBC JUMPSTARTER 2022 organised a series of
webinar
, gathering start-up founders, business leaders and VCs for a deep dive into the key opportunities to look out for when growing a business in Hong Kong and the Greater Bay Area (GBA).
Here are some key insights from the
Alibaba Entrepreneurs Fund/HSBC JUMPSTARTER 2022 Webinar
:
Leveraging Hong Kong as a springboard for international expansion
Hong Kong's low taxation, world-class infrastructure and multi-cultural work environment make it ideal for anyone looking to set up their business and leveraging it as a springboard for international expansion.
Dr. Danny Po, Partner, International and M&A Tax Services, Deloitte Hong Kong, notes Hong Kong has a very special tax regime. The City's profit tax and individual income tax rate is 16.5% and 15% respectively – compared with other developed countries, where profit and income taxes can range from 25% to 50%. This makes Hong Kong the best place in Asia for business and investment.
According to Peter Yan, CEO of Cyberport Management Company notes, Hong Kong has a "very strong international network" and "experience in integrating with a global market", and can thus act as an effective test site for companies who want to expand globally.
One of the things to consider when you're growing your business is fund-raising.
Radiant Venture Capital's co-founder Duncan Chiu also highlights the city's status as a fund-raising base, with the private equity market boasting 2-3 trillion US dollars in the management of funds.
"Hong Kong has actually made a lot of development in the early-stage investment funds. There are a lot of new early-stage funds, A to C rounds of funds have established their base camps in Hong Kong," he notes.
Importantly, Hong Kong is also home to a diverse investors' base-making it an ideal base for those with global ambitions, as HKEX's head of innovation and data lab Lukas Petrikas notes, "You've got Chinese and overseas investors, you've got institutions and individuals. All of them invest in the stock market in Hong Kong and all of them invest in IPOs here. So if you're raising money and you have global ambitions and your customers are eastern and western, and you want your shareholder base to represent that customer base, you're not going to find many places that can offer that diversity of investors like Hong Kong."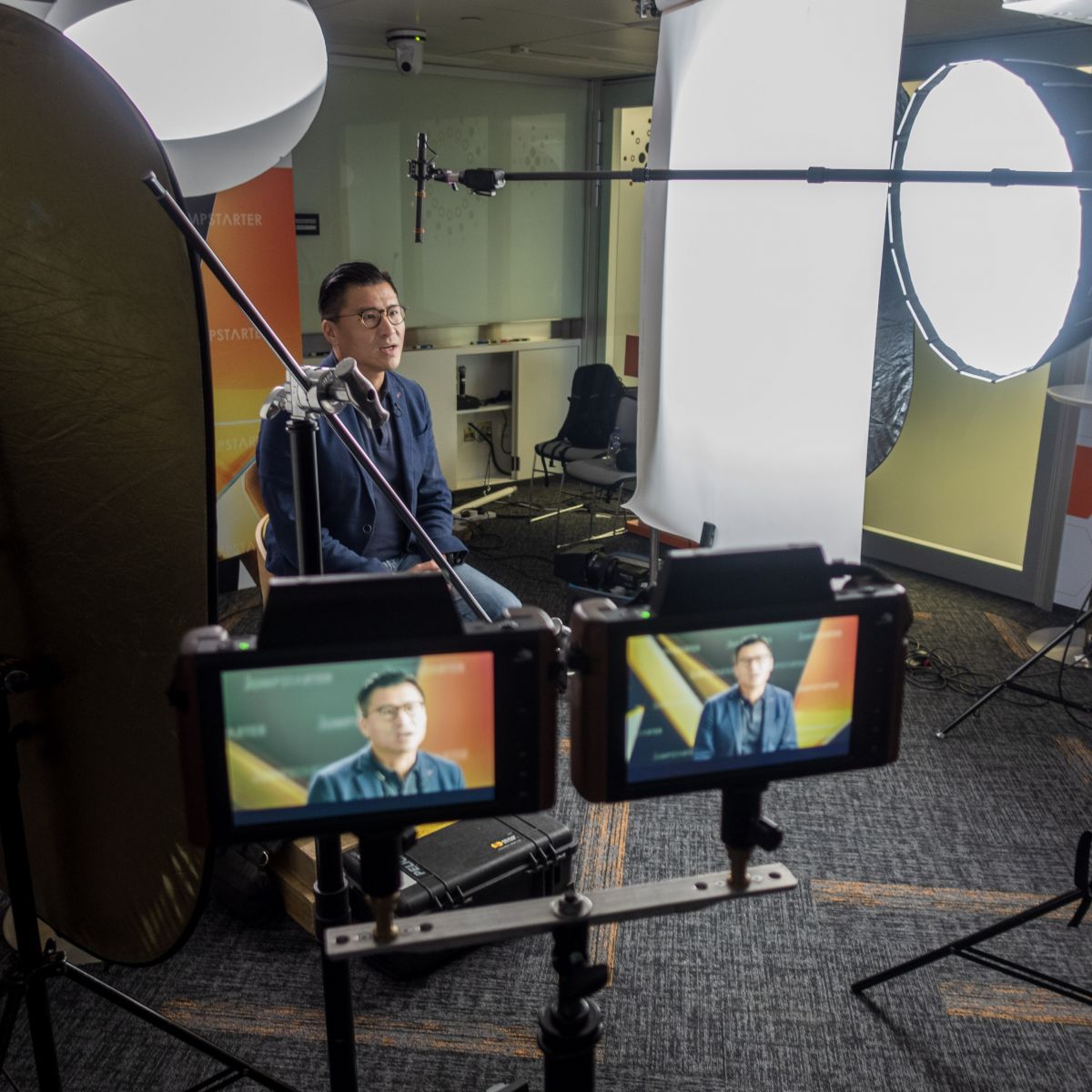 Innovation, tech & sustainability are driving forces for growth
Hong Kong is the ideal springboard for I&T companies looking to expand internationally. There is keen interest from both public and private sectors to further develop the sector.
As HKSTP's head of investment Raymond Wong points out, "innovation and technology is the driving force for Hong Kong's next era of economic growth.
The 2022 edition of JUMPSTARTER is focusing on three new sectors: art tech, health tech & sustainability.
HSBC is investing specifically in health tech, having recently launched an additional US$700 million "GBA+ Healthcare Fund" to support the fast-growing medical industry companies in the region.
The pandemic has also reignited debate about the importance of sustainability - and highlighted the importance of building ESG into business strategies.
Gobi Partners' co-founder Thomas Tsao, notes, the world "really needs entrepreneurs who are driven by a purpose to really solve the world's problems, for example, climate change."
Esquel Group's CEO Edgar Tung says ESG is a keystone of their business. "With our company's vision of 'Making a Difference', we have always hoped our values are reflected in the way we approach social responsibility, environmental protection and corporate governance."
Meanwhile, Hutchison Telecommunications Hong Kong's executive director and CEO Kenny Koo highlights the application of 5G technology in art.
"Should art come first, then tech? Or should tech come first, then art? They're interdependent. If artists understand the philosophy and process behind the latest developments in AR, VR, AI and blockchain, they can exercise their imagination, and perhaps even propose a new way of art-making. Most importantly, we need to build a bridge to connect the art and tech world, to allow the communication and flow of knowledge and ideas."


Insights from start-ups: Things to consider when expanding your business
The webinar invited some of the region's top start-ups to share insights into expanding their business to other markers.
OneDegree's co-founder Alvin Kwock says you have to ensure you are 'product-market fit.' "Does your product really have a 'product market'? I think that after making sure the answer is yes, you can avoid prolonged cash burn."
Meanwhile, Great Bay Bio's chairman & co-founder Kingsley Leung notes that the product needs to be as close to 'perfect' as possible. "The best is just to push your product quickly to the market and just try to get as much feedback as possible to improve your business, improve your product and your platform as quickly as possible."
Another key factor to consider is whether your product or service is tapping into an unmet customer need or a trend in that specific market.
As Dowsure's founder & CEO Byron Pei explains, companies seeking international expansion "must first look at whether it can take advantage of the market trend, whether it is with the ongoing trend on a global scale. If it is just a major change in one country, and there is no such demanding other countries, then it may be necessary to set certain boundaries for market expansion"
People could also make or break your expansion.
Pickupp's co-founder & CEO Crystal Pang notes, "When you go out, there are many challenges in terms of securing local talents, facing different cultures and languages. It is a big challenge to find local people whom we can trust...to have the...ability to take our products to the new market."
For more insights, watch the
Alibaba Entrepreneurs Fund/HSBC JUMPSTARTER 2022 Webinar
now.
BACK